To request conditions and prices for exhibiting at InnBrew 2021, contact us in through the following form and we will respond as soon as possible.
 If you want to assist InnBrew, you can get your Accreditation here:
Exhibition Area with product and service stalls for breweries. It is designed for all companies that offer a product or service, necessary for the production or distribution of craft beer. The best opportunity to show and position yourself in a market in continuous growth.
This convention of brewing knowledge and innovation will be presented across several spaces hosting training sessions, presentations and round tables for thought-provoking discussion.
InnTalks are the annual meeting point where you can discover new trends, train, reflect and finally grow professionally both individually and corporately.
Sr. Carmel Mòdol Bresolí and Mikel Rius
Challenges of craft beer in catering.
Analysis of the key aspects of craft beer brewing and the different types of beer to assess its introduction into the world of catering in general.
"System and experiences of the washing and sterilised filling of kegs."
Peter will talk to us about the best practices for efficient cleaning and filling using keg technology as breweries return in the post-COVID era based on his wide experience of over 30 years in the sector collaborating with important breweries in the United States and Canada.
Peter Mackenrodt
(Keg- Technik)
Dry or liquid yeast? Ten things that all brewers should know.
We will analyse the ten key points related to the type of yeast – dry or liquid – with an expert in the topic who has been supporting breweries in the application of yeasts and bacteria in recent years.
Joan Montasell Colomer
(Lallemand)
The fundamental pillars of a successful brewery.
Based on his experience in the beer sector, Giovanni Campari will give us the premises of good practice in beer making and business, bearing in mind the current delicate post-pandemic moments. Advice and suggestions to soar in the times we're experiencing.
Giovanni Campari (Biomerieux)
Leave the spreadsheet behind. How to improve business processes at a craft beer brewery.
Presentation of a P&L and budget management software system designed especially for companies in the beer sector. Digital tools to improve your business management based on the speakers' broad knowledge and global business development experience.
Nicolás Mohamed
(Gestión Cervecera)
Beer in haute cuisine.
Formulas to integrate beer and its ingredients into haute cuisine. Cooking with beer ingredients, beer itself, pairings and harmony.
Fran Vicente y Javier Aldea (Brew&Hub)
Managing the oxygen dissolved in drinks packaging.
The speaker will deal with dissolved oxygen and all the factors that affect it in order to reduce it as much as possible and achieve maximum stability in product quality.
Fernando Gómez (Wild Goose)
Lager techniques and strains: malty, balanced and hoppy profiles.
Different types of fermentation techniques for strains of lager will be analysed to achieve varied profiles for this type of beer.
Beer tourism.
Putting the visitor at the epicentre, and showcasing the value of breweries, beer culture and new tasting venues as tourism drivers to be explored, legislated and standardised.
Judit Càrtex, Damià Serrano, Judit Piñol and Mikel Rius
Communication and digitalisation at breweries.
A technical speech and subsequent discussion about the different brewing models and their communication, such as campaigns, social networks, digital resources and online sales.
Judit Càrtex, Àlex Miquel and Xavi Vinaixa
What is your yeast like? And why it concerns you.
Every brewer knows that you can't make beer without yeast, but to what extent is this microorganism important in the brewing process? Dr. Tillich will give an overview of why it's important to fully understand yeast and what methods we have to do so.
Dr. Ulrich Tillich (Oculyze)
Making non-alcoholic IPA with Saccharomycodes ludwigii yeast.
Spain is the world's largest producer of non-alcoholic beer. Today, new forms of brewing are being tested. The Escuela Superior de Cerveza y Malta (Higher School of Beer and Malt) will tell us about a research project with very good results.
Rubén González, Alba López and Albert Portal
Hygienic sampling at breweries.
"All breweries, however big or small, must take samples to
ensure quality and that the process is taking place just as the brewers designed it in the recipe. Iberfluid will show us how to do so with complete
confidence and the newest systems on the market."
Francesc Terradellas (Iberfluid/Keofitt)
The evolution of beer ingredients.
Beer making is in a state of continuous transformation and the ingredients that are normally used change over the course of time. We will take a walk through history and look at some of the new ingredients that have been being used recently for brewing.
Beatriz Carvalho (Amazing Brewmastery Brewing Consultancy)
The root and types of harassment and new protocols at breweries.
In a developing and growing sector, it would be very useful to detect, define, prevent and act on harassment, laying the foundations to create protocols and forging basic tools throughout the value chain.
Judit Càrtex, Nacho Parra and Solange Hilbert
First meeting of craft brewery associations in Spain.
"Celebration of the first meeting of all brewery associations in Spain: ACAIB (Associació Cervesers Artesans de les Illes Balears; Craft Beer Association of the Balearic Islands), ACV (Associació de Cerveseres Valencianes; Association of Valencian Breweries), AECAI (Asociación Española de Cerveceros Artesanos Independientes; Spanish Association of Independent Craft Brewers), EGE (Euskal Garagardo Elkartea; Association of Basque Breweries) and GECAN (Gremi d'Elaboradors de Cervesa Artesana; Guild of Natural and Craft Beer Brewers). Presentation, discussion and conclusions on how to work on common points, how to manage organisation and how to be united with regards to administration while maintaining the idiosyncrasies of each association.
"
Judit Càrtex and association representatives
Water and beer. Treatment techniques to adjust the water to the style.
The speaker will address the topic of water quality in Spain by region and type and ways to treat it from avoiding chemical and microbiological problems to techniques to adjust it to the beer style.
Santiago Fernández
(BWT Iberica)
Let's go back to basics. What is malt?
What malt is, the composition of the grain, transformations that happen in the grain, transformation phases (soaking, germination and roasting) and types of malt.
Javier Jiménez (Intermalta)
Beer durability (increasing the expiry date), filtration techniques and total cost of ownership.
Filtration. From the different technologies on the market, Andreas will make a comparison not only of the effects on beer, maintenance, and the consumption of water, energy and cleaning media, but also of the total cost of ownership. The discussion will focus on crossflow technology based on ceramic and polymer modules, as well as precoat filtration with earth candle filters.
Andreas Hauri (Bucher Unipektin)
New trends: low and zero-alcohol fermented drinks.
An overview of the different ways to produce alcohol-free beer and the state of the art types. An analysis of other types of non-alcoholic fermented drinks such as kombucha and water kefir. The importance and regulations around these drinks in different parts of the world.
Spontaneous fermentation and ageing beer in barrels at a small brewery. Lessons learnt.
Conclusions of the study on spontaneous fermentation and barrel ageing.
Oriol Lacambra, Reny Matheus and and Roger Plata
How we make beer and how our boiling really works.
Conclusions of the study on the importance of boiling in the brewing process.
Alvaro Mayordomo, Aleix Tena
and Roger Plata
Grow with centrifuging.
Explanation of the options available, the steps to follow and the benefits that centrifuging can bring you to help you launch your business. What centrifuging consists of, how it works, what its characteristics are, what you need to pay attention to and what benefits it can bring you.
Crusat - Jornadas Técnicas Equipos de Frío (iniciación)
Oculyze - Contaje de levaduras y cálculos de rentabilidad en tu negocio
Agronet - Higienización en la Cervecera Craft
Cerveceros - Cómo Digital5 diseñó la herramienta de gestión que Basqueland necesitaba y que ahora está al servicio del sector
Javier González i Kevin Patricio
Biomerieux - Toma el control de tus cervezas
Gestión Cervecera - Hands-on: Gestión y profesionalización de tu fábrica
Wild Goose - Presentación empresa, 3 máquinas principales que fabrican y preguntas
Intermalta - Interpretación práctica de los datos analíticos de una malta
Gestión Cervecera - Hands-on: Gestión y profesionalización de tu fábrica
Crusat - Jornadas Técnicas Equipos de Frío (avanzado)
Crusat - Presentación GILDAGER
Oculyze - Contaje de levaduras y cálculos de rentabilidad en tu negocio
Weyerman - Extractos de Malta: Atenuación y Aromas
TNS - Extractos aromáticos de lúpulo: Tipos y Aplicaciones
Wild Goose - Presentación empresa, 3 máquinas principales que fabrican y preguntas
Intermalta - Nuevas tendencias en e-commerce: cómo vender cerveza online
Crusat - Jornadas Técnicas Equipos de Frío (especialista)
Gestión Cervecera - Hands-on: Gestión y profesionalización de tu fábrica
Wild Goose - Presentación empresa, 3 máquinas principales que fabrican y preguntas
This concept tries to enhance networking across all activities.
The InnMeet is a permanent connection network, created to promote professional links and maximize the number of contacts. Each attendee will have access to an App, where they will be able to contact other professionals, request meetings and set their own agenda.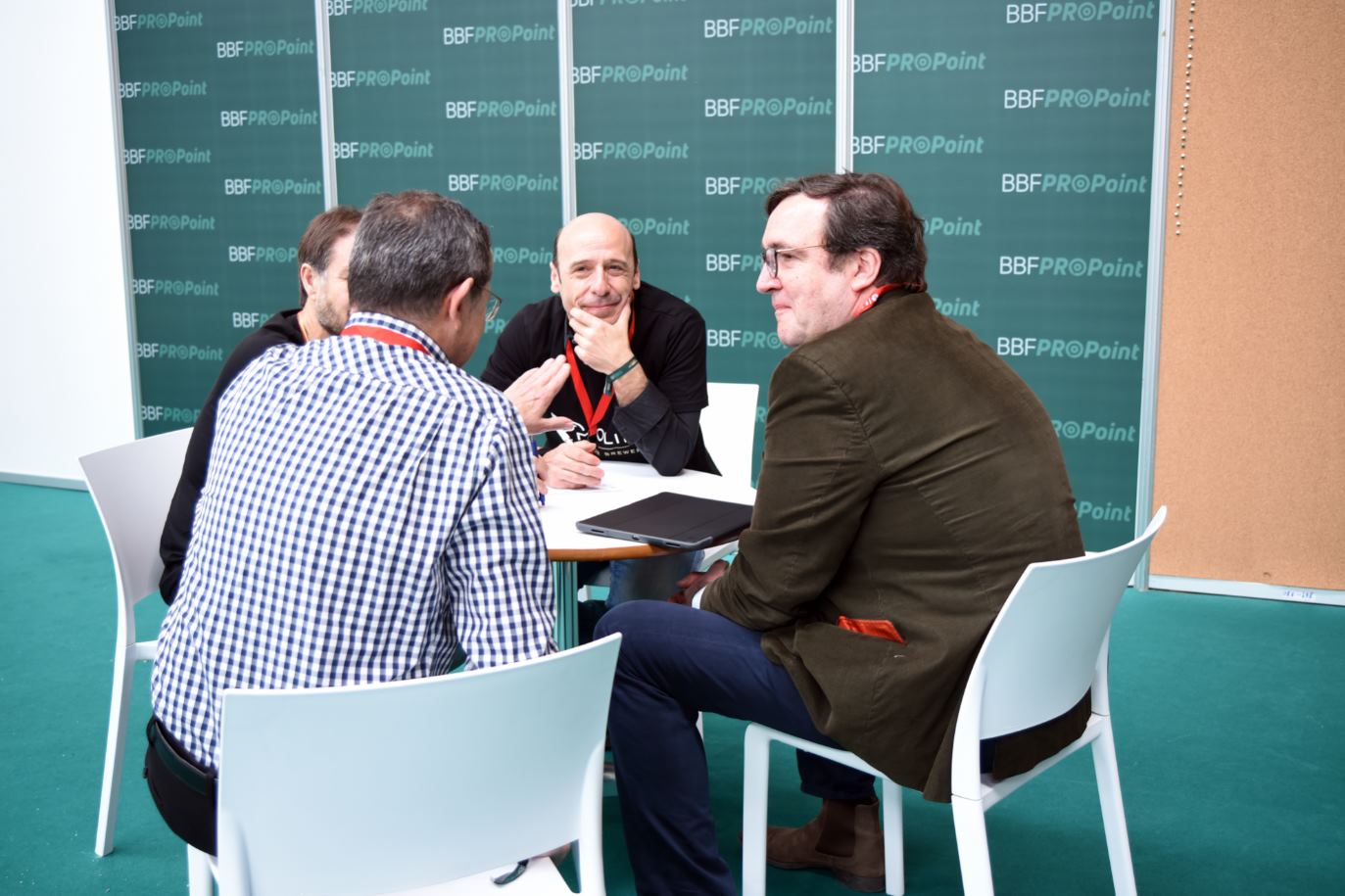 KEYKEG CORNHOLE BREWERS CUP
At the Keykeg Cornhole Cup, Breweries teams compete against each other to raise the cup and be named as the best Cornhole team of the year.
La Farga de l'Hospitalet
Calle de Barcelona, 2, 08901
L'Hospitalet de Llobregat,
Barcelona
OPENING HOURS
22nd and 23rd July - From 10h to 18h
24th July - From 10h to 15h