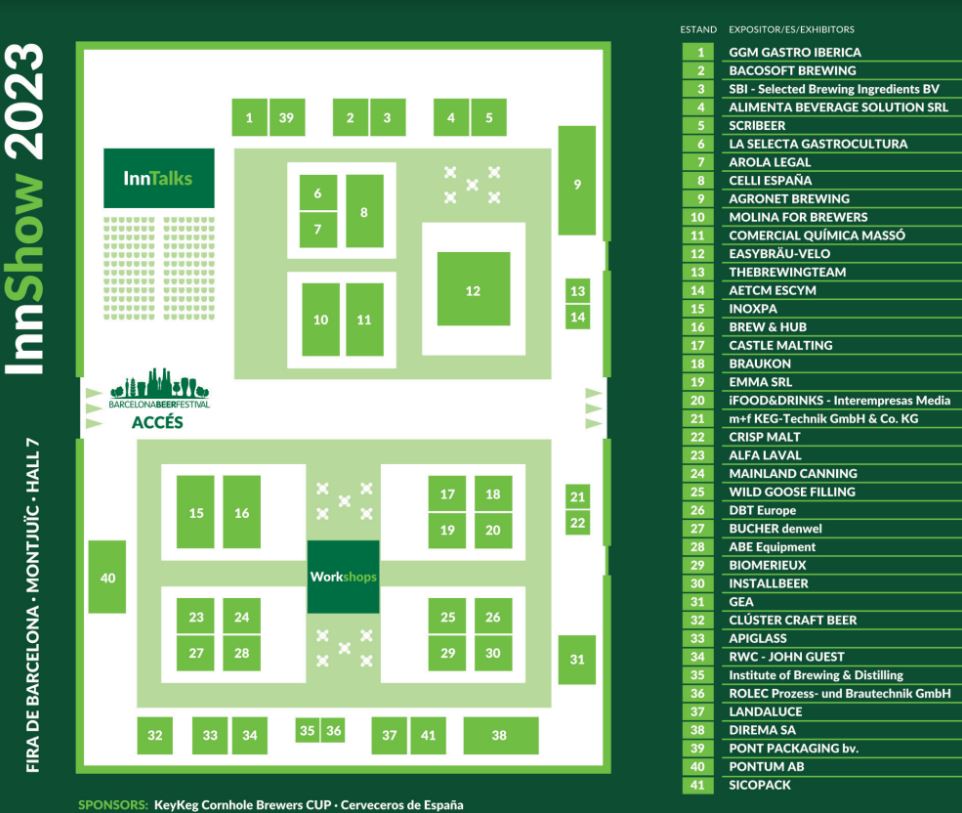 To request conditions and prices for exhibiting at InnBrew 2024, contact us in through the following form and we will respond as soon as possible.
Recruitment for participation with a stand at InnBrew23 is now complete and closed.
We are working on the new InnBrew 2023 edition. If you have any questions please contact us 
Exhibition Area with product and service stalls for breweries. It is designed for all companies that offer a product or service, necessary for the production or distribution of craft beer. The best opportunity to show and position yourself in a market in continuous growth.
ABE Equipment
At ABE Equipment, we pride ourselves on providing complete turnkey solutions for our customers. Sure, we design and build brewhouses, canning lines, distilling equipment, and more, but we create every piece of equipment with the ultimate goal in mind, which is to design a product that helps you to earn money. Our turnkey brewing systems and turnkey distillery offerings will allow you to get up and running right away and focus on profits, rather than having to search for equipment from multiple suppliers.
AETCM / ESCYM
At the Asociación Española de Técnicos de Cerveza y Malta (AETCM) we have been serving the brewing world for 60 years. We publish the magazine Cerveza y Malta, a reference in the sector in this country, and we have the only independent laboratory dedicated exclusively to the analysis of beer and its components.

The Escuela Superior de Cerveza y Malta (ESCYM) is a pioneer in the training of professionals in the brewing sector, with the Master in Brewing Science and Technology as the best exponent in the training of master brewers.

AGRONET BREWING
AgronetBrewing, a company specialized in the distribution of products for breweries, offers the best service, advice and customer service to facilitate the work of all companies in the sector. It also offers the best brands, as it has a wide catalog of national and international products, all of them of high quality, in order to cover all the needs required by the manufacture of beer.
Alfa Laval
Alfa Laval and craft beer. We offer our customers solutions that manage to overcome the most difficult and critical challenges in their processes. From individual components and modules to turnkey projects, our solutions are designed to obtain quality beer, optimize production and reduce energy costs with minimal environmental impact. The range of BREW centrifuges and the family of craft/mini modules for craft breweries from Alfa Laval have been specially designed for all the needs and capacities in the preparation of craft beers. Contact us: comunicacion.spain@alfalaval.com
ALIMENTA BEVERAGE SOLUTION s.r.l.
Alimenta Beverage Solutions is an Italian company specialized in the design and manufacture of equipment for the production of beer, soft drinks and wine. Alimenta Beverage Solutions is a trusted partner to provide solutions tailored to the needs of any brewer. From the manual system to the fully automatic versions, Alimenta offers independent machines and complete plants for the production of craft beer and industrial beer, such as cooking rooms, carbonization, fermentation room, BBT, pasteurizers and CIP
Apiglass S.L.
Apiglass is a family company with more than 30 years of experience in the world of glass packaging and barrels for the beer and wine sector. Currently at Apiglass we are distributors of the main manufacturers on the market such as: Lightweight Containers, single-use barrels from Keykeg and Unikeg. Ba Glass, with its entire range of glass bottles and containers. Wiegand-Glas, glass bottles with capacities from 0.33cl to 75cl in various colors. Astir, all types of crown caps including custom crowns. Edard, all types of mechanical caps, also customized.
Arola Legal
AROLA LEGAL is a consultancy specialized in Beer Tax with a team committed to the beer sector. Our job is to accompany the manufacturers in fulfilling their fiscal obligations and the sector in the defense of fairer regulations. Our team of experts offers a catalog of services covering all needs in relation to Beer Tax:

Registration of CAE, own SILICIE Program for accounting management, Presentation of the Payment Model (561), Issuance of EMCS circulation documents, Customs formalities, Consulting and training.

Bacosoft Brewing
Bacosoft brewing,

The software used by more and more developers.

Complete management of your factory, very intuitive and easy to use that brings you, SILICIE, sending and receiving of*EMCS, calculation of the model 561 , production costs, traceability, stocks of raw material and packaged beer.

Designed specifically for craft breweries, excellent performance at the best price.

It is a Web application, very powerful and easy to use, in which you pay only for use and can be accessed from anywhere via the Internet.

bioMérieux
bioMérieux with the technology of VERIFLOW® and GENE-UP® BREW offers the beer sector solutions for the detection of bacteria and wild yeasts that make it possible to protect the quality of beer through in-situ detection in less of 4h of altering microorganisms at any stage of production and in any type of beer. bioMérieux helps you take control of your beers.
BrauKon GmbH
BrauKon supplies turnkey brewery systems worldwide. In our own workshop in Germany we manufacture custom brewing systems for many of the world's most successful craft breweries that share our passion for beer and brewing. Our systems are flexibly designed to brew excellent quality beer and creative recipes in combination with intensive energy and resource savings. We combine our worldwide experience in building breweries with our experience in operating our own brewery, Camba Bavaria.
BREW & HUB
Mahou San Miguel's Brew&Hub is a collaborative space that offers 360º services for the beer and beverage sector. The true value of the Brew&Hub lies in the versatility of our facilities, services, product offering and quality control. Our plants can produce a wide variety of products with different custom packaging finishes. In addition, we offer leading-edge technology to customize your product on-site throughout the entire process, from design to packaging and labeling.
Bucher Denwel, spol. s r.o.
Bucher Denwel develops and produces a wide range of specialist equipment and provides engineering solutions for brewers. We build safe and reliable cold blocks for your brewery. Our scope includes technology design, equipment supply and process automation, installation and commissioning. We offer complete turnkey new projects or upgrades and extensions to existing plants. Combining experience and innovation, we supply brewing equipment such as filtration systems, yeast plants, water deaeration, mixing, carbonation, dosing systems, dealcoholization, CIP and flash pasteurization.
Castle Malting SA
Founded in 1868, Castle Malting® is the oldest malting company in Belgium. Belgian beer culture is recognized by UNESCO as part of the Intangible Cultural Heritage of Humanity. To meet the quality requirements of a huge variety of beers, Castle Malting® has developed a whole spectrum of premium base and specialty malts, offering today more than 100 different types of malt.

More than 3700 breweries in 147 countries around the world have chosen our malts to brew a wide range of beer styles, from Pilsners and white ales to dark Abbeys, Stouts and Porters, as well as any style of organic beer .

CELLI SPAIN
Celli Group is a world leader in the sector of accessories and systems for the dispensing of beverages, from beer and soft drinks to water. With more than 1000 employees, the company, based in San Giovanni in Marignano (Rimini – Italy), has nine production plants in Italy, the United Kingdom, France and Spain and commercial offices in Germany, Singapore, Brazil and the United States, and exports its products to more than 100 countries around the world.

Reyvarsur, part of Celli Group, born in Seville in 1974, is a company specialized in the design and manufacture of systems and accessories for the dispensing of drinks. Extensive technical knowledge and mastery of technology allow us to develop complete projects and solutions to facilitate the work of our customers.

Craft Beer Cluster
WHO ARE WE? We are a group of companies and entities belonging to the craft beer sector that share challenges and objectives and consider that the best way to achieve them is by collaborating, joining forces and adding capabilities. WHAT WE DO? We promote the craft beer sector through different types of projects and activities in order to improve the competitiveness of our companies and the recognition of the product.
COMERCIAL CHEMICALS MASON
At Massó food, we offer functional ingredients and tailor-made solutions for beer production: Our line of natural fruit concentrates will save you time in the beer-making process. Less quantity, less spoilage and greater control over the flavor of the final product. You can create beers with more traditional flavors like lemon or unique and distinctive flavors. In addition, with our tannins you can create beers with toasted notes, and improve colloidal and organoleptic stability. Our solutions provide the perfect balance of color, flavor and aroma
CRISP MALT
Since 1870 we have been making malted barley for brewers and distillers around the world from our malthouses in Norfolk, England. Currently, we continue this work in 4 countries, in numerous malthouses, with special emphasis on supplying distilleries and craft breweries.
DBT Europe
DBT Europe is the leading partner for those looking to expand or crea­te a custom 4 – 120 HL brewing or distilling system. Specializing in automated turn-key systems to serve innovators of Craft Beer, Craft Spirits, Seltzer, Coffee, Kombucha, and infused beverages. All equipment is custom designed by industry expert engineers with over 100 years of combined experience in the craft beverage manufacturing process. Foster your business with advanced automation systems to ensure maximum efficiency, value, consistency, and reliability in the production process.
DIREMA SA
At DIREMA we are in permanent contact with our customers, wineries and micro-breweries, providing advice and offering customized solutions to fill and cover their beers, both in BOTTLE, CAN and KEG. DIREMA, since 1978 specialists in the design, manufacture, installation and maintenance of bottling, labeling and packaging machinery. And… of course, a fast and efficient after-sales technical service throughout the national territory.
Easybräu-Velo
Easybräu-Velo, Italian manufacturer of equipment for the craft and industrial beer process.

In addition to cooking rooms (from 1 to 100 hl), fermentation and maturation tanks, auxiliary accessories (dry hops, yeast propagators) CIP units, filters and pasteurizers, we have a team of highly qualified experts, who represent the 360° advice that every brewery needs.

EMMA Srl
EMMA Srl started in 2017 as a direct manufacturer of machines for the filling sector.

We design, develop and produce can filling machines and complementary machines for small and medium production companies.

We are able to design and integrate complete systems in response to the specific needs of our customers thanks to our team of engineers.

We are passionate about craft beer, which is why we develop systems thought and designed for this sector through of a specific know-how in order to optimize the investment for the end customer.

GEA
GEA's craft brewing solutions have proven to be perfect for many breweries that have left their early stage behind and are now using more efficient and versatile brewing systems to keep up with the success of your business and be prepared for future growth. GEA is an ideal partner to turn your passion for brewing into a big business. GEA craft beer equipment gives you the key to making and selling more beer with fewer resources and in less time, allowing you to benefit from market opportunities.
GGM GASTRO IBERICA
GGM GASTRO Nº1 IN PROFESSIONAL KITCHEN

GGM GASTRO is the largest online distributor of catering equipment in Europe. We are a company that since 2004 has been facilitating the work of professionals in the HORECA sector by offering everything a restaurateur could want, from crockery and cutlery to robots and food trucks. Our collaborations with restaurant chains and chefs of international prestige and Michelin stars have given us the necessary knowledge to be able to offer our customers a catalog of more than 20,000 items of the highest quality at the best price.

iFOOD&DRINKS – Interempresas Media
iFOOD&DRINKS is a publication that collects, in paper and online, the most relevant information on machinery and regulations in the food and beverage sector. Through reports and interviews, new products are made known in the production of sectors such as beverages, meat, fish, alternative protein, canning and frozen, dairy, fruit and vegetables, ready meals, bakery and confectionery, dry food (snacks) . The publication also pays special attention to the novelties presented at the main fairs and exhibitions, national and international, related to the food business. The magazine is mainly aimed at manufacturers of food products.
INOXPA
Committed to the desire to always satisfy the needs of our customers, we offer complete solutions for the manufacture of craft beer, whether it is large projects, industrial plants or micro-breweries. From the mill, storage and transport of malt to completing the production and fermentation processes. TAILOR-MADE PROJECTS, A WHOLE PHILOSOPHY.
Installbeer
Company specialized in beverage dispensing since 1996. Sale and distribution of technical equipment for the preparation, production and dispensing of beverages. Like beer, wine, coffee, vermouth and other drinks. Technical service with more than 30 years of experience in dispensing beer and other drinks.
Institute of Brewing & Distilling
The Institute of Brewing & Distilling (IBD) has been representing and educating brewers, distillers and fermenters since 1886, and its Certifications are arguably the most recognized worldwide.
The Selecta Gastroculture
We are a gastronomic distribution company, with more than 35 years of experience, which selects products that provide solutions, added value and differentiation, establishing bonds of honesty and trust with producers and customers.

We are official distributors of Ponthier, fruit and vegetable purees committed to sustainability, traceability and ethical and respectful cultivation. With formats adapted to your needs and more than 50 flavors of the purest fruit and the new BIO references and 100% fruit without added sugars, you can achieve total control in your creations.

LANDALUCE
Landaluce is a family company founded in 1948. With references in more than 70 countries and working for the most important breweries, it has the best technology for the craft brewery sector.
m+f KEG-Technik GmbH & Co. KG
m+f KEG-TECHNIK GmbH & Co. KG is a German company specializing in the manufacture of machines for cleaning and filling kegs, and all equipment related to kegs for beer and other beverages, with an experience of more than 50 years.
Mainland Canning
Mainland Canning we are a company located in the Netherlands, official partners of Micro Ca Canning Machines (England) for the distribution and installation of their machines worldwide. Our packaging solutions range from canners to depalletizers (semi-automatic or fully automatic), labelers, reflow tables or case packers (both for cans and bottles). And of course, combining all of the above, we design complete canning lines from start to finish specifically for the customer's needs.
MILL FOR BREWERS
We want you to enjoy creating and innovating. For this reason, our master brewers give you support and solutions such as OISpirals, spirals that give aroma and flavor to your recipe or Fermentis yeasts and the latest BR8 innovation, which offers the benefits of wild Brett yeast but with more control and reliability We bring you brands like Weyermann®, Biolupulus, Oculyze, Nomen… Trust Molina for Brewers and "Don't worry, BREW HAPPY!"
PONT PACKAGING bv
Pont Packaging offers you the widest range of beer bottles in capacities of 33cl, 50cl, 66cl and 75cl. You can choose between an intense amber color for perfect protection of your beer against UV rays or a white glass bottle for less sensitive beers. Available in 26 neck for 33cl, 50cl or 66cl and in 29 neck for 75cl, also with cork closure or mechanical closure. Customizing your beer bottles is easy with Pont, as our team helps you through the process of customizing your closures and/or labels with embossing and a unique design that fits your brand.
PONTUM AB
Pontum is a Swedish company that supplies bottling and canning equipment for craft breweries. What is significant about us is that we can combine our bottling machine with a canning unit. It means you can bottle and can with the same machine. The modular design makes it possible for the customer to start with just a two-head bottling machine and then expand to six heads and canning. Both bottles and cans can be filled with counter pressure or gravity. So far we have delivered machines to more than 20 countries.
ROLEC Prozess- und Brautechnik GmbH
ROLEC supplies turnkey brewing systems for the entire production process and brewing sizes up to 500 hl. We design our equipment individually according to the specific technical and technological requirements of our customers.
RWC-John Guest
John Guest is part of the RWC family, world leader in the manufacture of fittings, valves and plastic pipes for all kinds of fluids.

Millions of our products are used daily in:

-Distribution of drinks

-Water filtration

-Pneumatic

– Compressed Air

-Plumbing & Heating

-Telecommunications

-Automotive

We focus our resources on the most advanced R&D and world-class quality control, this translates into:

-Smart and fast solutions.

– Lasting quality.

-Expert customer service.

More information at: www.johnguest.com

Scribeer
A beer and a 360 experience. Zero emissions and all the sensations of bringing back the original formulas of ancient Egypt. Made with the wheat of the pharaohs, today known as Kamut, red pepper and aromatic plants that transmit a fruity and spicy sensation between medium and strong Cultivated ingredients and 100% sustainable production, the waste is used to obtain a 3D compostable filament of the highest quality, generating a revolutionary material with which you can print everything your imagination can dream up.

Flavor for the 5 senses.

Selected Brewing Ingredients
14 years Selected Brewing Ingredients. SBI supplies breweries across Europe with the best selected ingredients. As your personal shopping partner, we offer the best quality ingredients and products in our one-stop shop, competitive prices and fast delivery. This, along with good customer service, characterizes SBI as a company. We offer quality products, a wide range of products, an efficient one-stop shop and fast and reliable delivery. Meet SBI Homebrew, an easy-to-use online store for homebrewers to work with the same quality malt, hops and yeast that professional breweries use! www.sbi4homebrew.com
SICOPACK
SICOPACK offers comprehensive packaging solutions especially in the areas of beverages and food, with specific equipment for the craft sector such as cans, bottles and

Kegs

in the beer and wine sector. SICOPACK offers technical advice to its customers to guarantee the performance of their packaging lines in the long term. Likewise, we have expert and highly qualified technical staff for the installation and commissioning of equipment and/or complete packaging lines, as well as spare parts and consumables for their correct operation.
The Brewing Team
BrewingTeam is a constantly growing collaborative software for the COMPLETE AND INTEGRAL MANAGEMENT of Breweries. Manage Inventory, Production, Purchases, TapRoom, EMCS, SILICIE, CRM, Billing, Accounting,… All on the same platform. Subsidized DIGITAL KIT.
Wild Goose Filling
With more than 3,200 canning and bottling systems installed in 73 countries, Wild Goose pioneered the development of the first craft canning and bottling systems on the market, innovating a patented technology that maintains the highest standards of quality for packaged drinks. A subsidiary of global restaurant industry leader The Middleby Corporation, Wild Goose designs, builds and manufactures equipment from its headquarters in Louisville, Colorado. Wild Goose offices in Europe provide additional sales, service and warehouse support, along with the company's worldwide network of partners.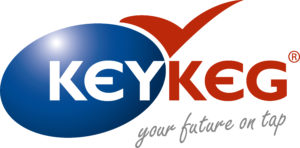 This convention of brewing knowledge and innovation will be presented across several spaces hosting training sessions, presentations and round tables for thought-provoking discussion.
InnTalks are the annual meeting point where you can discover new trends, train, reflect and finally grow professionally both individually and corporately.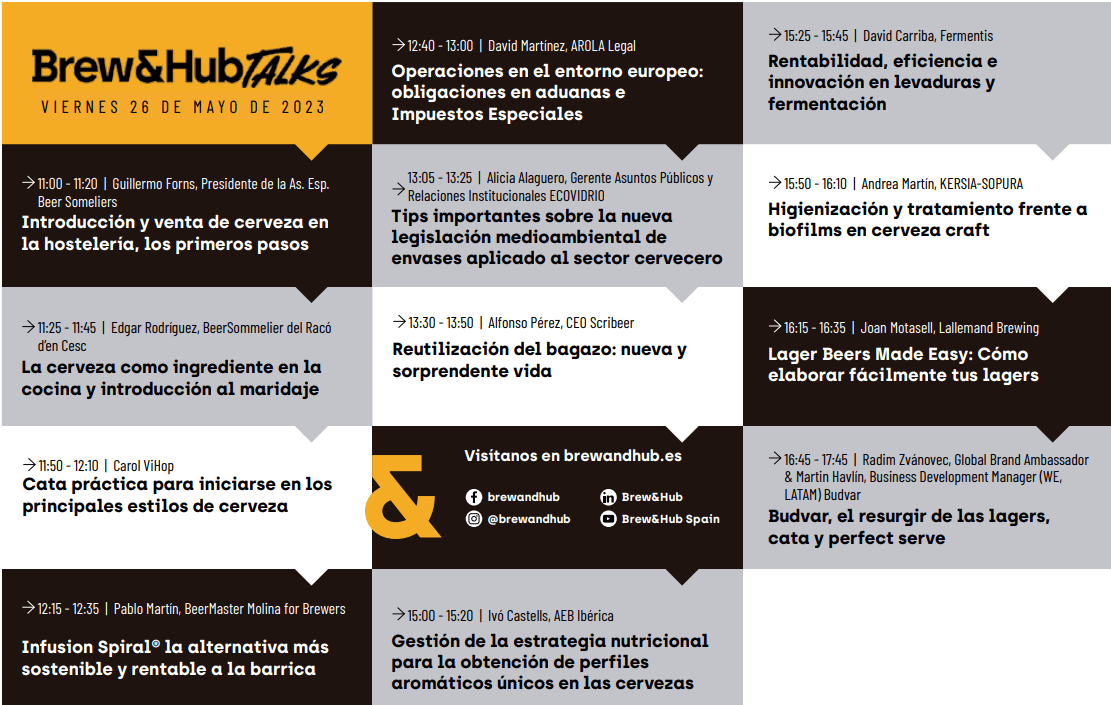 This concept is worked transversally both in the exhibition area and in the rest of the activities. InnMeet is a continuous network of connections created to foster professional links and maximise the number of contacts. Networking is treated in a transversal way: workshops (workshops applied to professional meetings in a comfortable and relaxed space); meetings in meeting spaces; awarding of the prestigious 'Steve Huxley' to the dedication; the more casual moments of play and interaction between professionals.
KEYKEG CORNHOLE BREWERS CUP
At the Keykeg Cornhole Cup, Breweries teams compete against each other to raise the cup and be named as the best Cornhole team of the year.