Within the framework of the second edition of InnBrew, the Brew&Hub Talks took place, a training space located in the InnTalks area. A space for training and dissemination, in which more than 17 very dynamic presentations (technical, motivational or experiential) and two more extensive round tables took place, where a general atmosphere of reflection, dialogue and interaction could be breathed at all times.
The Brew&Hub brewery space, which provides brewers with a place where they can brew with the latest technology and with all the quality controls and guarantees, hosted the Brew&Hub Talks with great personalities related to the world of beer from different fields. 
The talks took place on Thursday 31 March 2022 throughout the day and attendees had the opportunity to listen to them live. Here we list and link them all:
– Energy efficiency in micro breweries, Juan Antonio López (DAMM), here.
– Hybrid yeasts: discover their great potential in brewing, Joan Montasell (Lallemand), here.
-(CAT) The cooperative, a socio-entrepreneurial tool for pooling work and infrastructures,  Ivan Miró (bcn.coop), here.
– Beer tax developments, Víctor Guarch (Arola), here.
– Get older with centrifugation, Javier Madina (GEA) and David Ferrer (Brewer Barcelona Beer Company),  here.
-(CAT) Fermentacions espontànies, Sergi Torres (Segarreta), here.
-(CAT) Resistència musical i cervesera: passió des dels marges, per Lalo López (productor, divulgador musical), here.
– Enhancement of hop aroma compounds via yeast, David Carriba (Fermentis), here.
– Life cycle and carbon footprint, Juan Francisco Ciriza (Mahou- San Miguel), here.
-(CAT) elSegell.cat, por Marc Biosca (Plataforma per la Llengua), here.
– Flanders, a beer destination, Ángeles Alonso-Misol (VisitFlanders), here.
– Learning from the past to face the future, Eduardo Olmedo (Cerveceros de España) and Mathew Schnider (Brewers of Europe), here.
– Practical interpretation of malt analysis, Javier Jiménez (Intermalta), here.
–Lo Vilot Farm Brewery: closed circle in craft beer production, Oscar Mogilnicki and Quiònia Pujol (Lo Vilot), here.
– Molecular Pairing Part 2, Javier Aldea (Brew&Hub), here.
– All you need to know about S. cerevisiae var. diastaticus and its detection, Julieta Arévalo (Biomérieux) and Joan Montasell (Lallemand), here.
– Craft beer on the table, Usman Alam Ibrahim Fazal (Fish and Chips), here.
On Friday afternoon (1 April 2022), the space for debate and reflection took place on the same central stage with two round tables with real specialists in the two topics raised, moderated by Judit Càrtex (director of InnBrew):
The first one entitled 'Cans and bottles: sustainability, uses and recycling' with two authorities on the subject such as Juan Ramón Meléndez, general manager of latasdebebidas.org and Francisco Javier de Santiago, sales director of Verallia beers. See it in full here.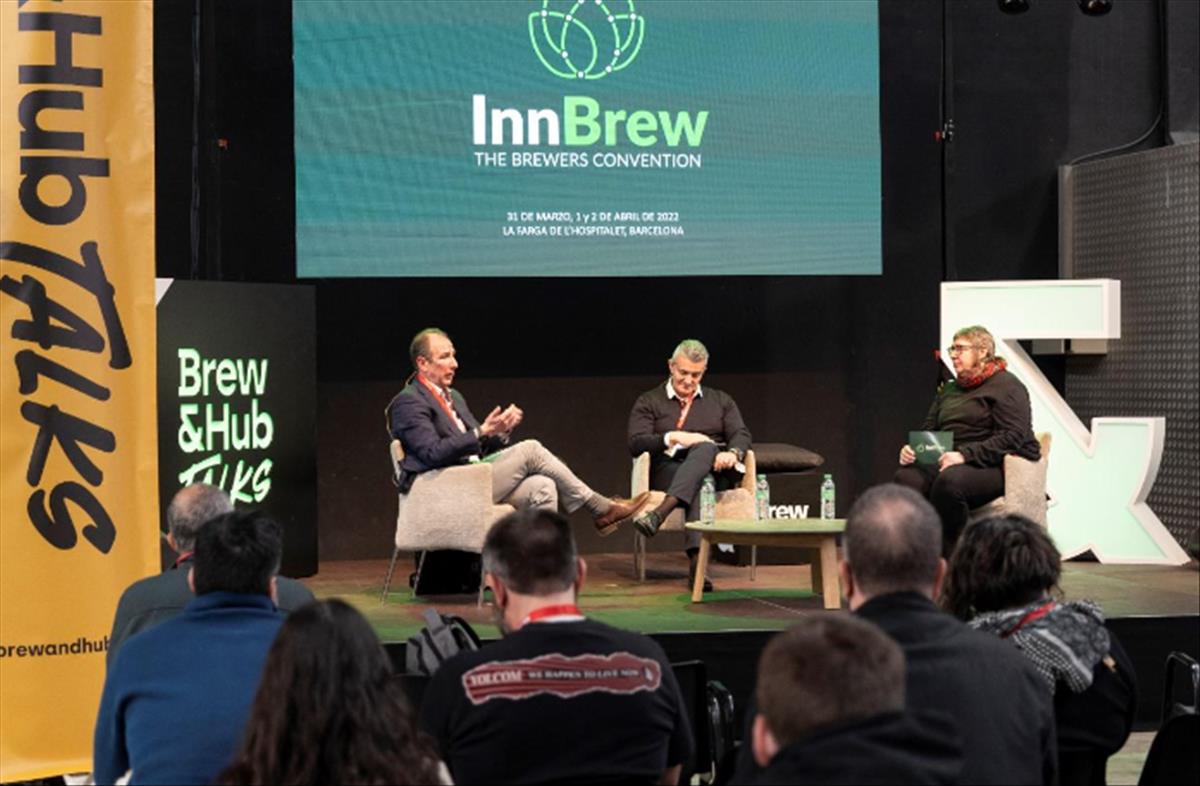 The second round table entitled 'The role of beer festivals in the sector' with the main organisers of beer events aimed at the final public: Mikel Rius (BBF director), Eduardo Lara Alba (Founder and co-director Granada Beer Festival) and Montserrat Virgili (director Mostra de Cervesa Artesana de Mediona).
See it all here.
InnBrewTV, with its host Andrés López (beerologist), interviewed many of the guests during the conference and other protagonists who participated in the convention: you can retrieve the short interviews here.
Intense days of training and debate that allowed the numerous attendees to enjoy and share in the framework of these Brew&Hub Talks 2022. We are already looking forward to the 2023 Talks!